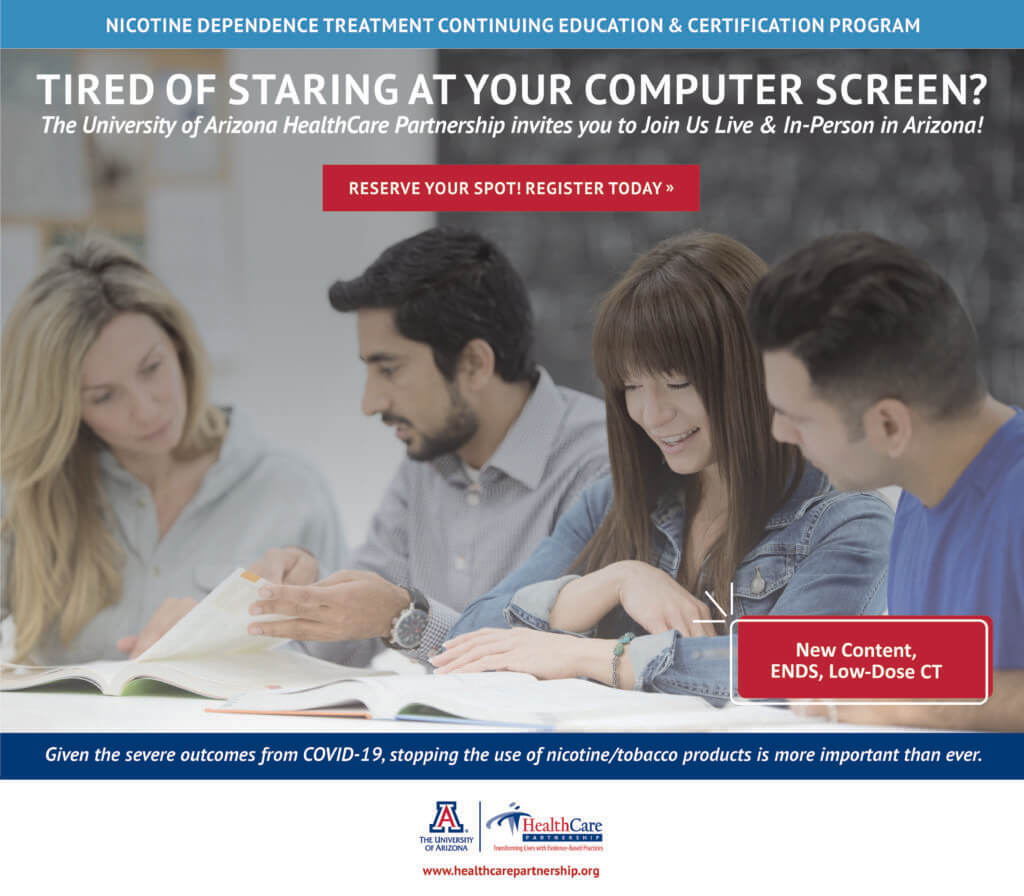 The University of Arizona HealthCare Partnership invites you to join us on the UA Campus in Tucson, AZ for a two-day Nicotine Dependence Treatment Continuing Education and Certification Program!
In these classes, you will learn about the pathophysiology of nicotine dependence. They will utilize case studies, audiovisual aids, and return practice demonstrations to equip point-of-care providers with information, as well as methods and techniques to prevent and/or treat nicotine dependence.
Two opportunities to earn
CONTINUING EDUCATION CREDITS & CERTIFICATION
in Nicotine Dependence Treatment
November 8-9, 2022
8:00 am to 5:00 pm
The University of Arizona
Tucson, AZ
11/8: Basic Tobacco Intervention Skills
11/9: INSTRUCTOR Basic Tobacco Intervention Skills
Certification for Medical & Allied Health Professionals
Program participants are eligible to earn CEU/CME upon successful completion of each program.
Includes updated content and teaching resources!
UPDATES reflect current trends and statistics in Nicotine Addiction and Treatment Intervention
NEW CONTENT:
Electronic Nicotine Delivery Systems (ENDS)
Low Dose CT (LDCT) lung cancer screening for early detection
Social Determinants linked to higher tobacco use
Download the flyer for additional information and to REGISTER TODAY.